FAQ:  In addition to the topics found here, please refer to our Rules and Regulations which will answer many other questions.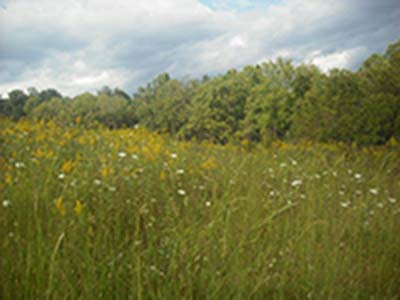 What exactly is a green (natural) burial?
Burial is burial. A green burial is not about things that are done, it's about things that are not done. The bodies are not embalmed; they are simply kept cold until time for interment. The caskets used for green burial are not built to last; they are made using sustainable and easily biodegradable materials—unfinished lumber, wicker or cardboard. A casket is not required at all; the deceased may have chosen to be placed in the grave wrapped in a shroud made of natural fibers such as cotton or silk. A cement vault is not used to line the grave. Upright markers are not used. The cemetery is not constantly mowed; it is maintained in a beautiful and healthy naturalistic manner. Green burial aligns its practices with the ways nature has dealt with the remains of all living things throughout time. The deceased is returned to the earth where the decomposing body fuels and nurtures the next cycle of life at a pace set my nature.
A green burial can occur in a green cemetery such as The Meadow— conceived, designed, and dedicated to natural burial practices, or under specific circumstances a green burial can occur on private property (see final question).  
Why would I want to be buried in a green cemetery? What are the benefits?
Dealing with your remains should be an extension of your life's values.  Green burial prohibits toxic products and materials such as cement vaults from inhabiting soils that are not equipped to deal with them.  Green burial limits the consumption of valuable and limited natural resources such as woods and metals at a rate that is unsustainable.  The land is managed naturalistically to sustain native plant material and support wildlife.   A green burial can be significantly less expensive than many current practices.  And there is the satisfaction of participating in and contributing your all to the natural rhythms and cycles of life.
What does The Meadow mean by Perpetual and Successive sites?
A perpetual grave site is one that will remain dedicated to the original burial in perpetuity. At The Meadow, in addition to the perpetual grave sites found in conventional cemeteries, we also offer an option we feel is even more aligned with nature.  When nature acts alone in the reclaiming and reuse of a deceased body, it makes no effort to reserve or dedicate the site perpetually.  The remains are eventually and simply absorbed into the fabric of nature; time and life go on.

When you purchase a Successive Site you give The Meadow the right to reuse the site for another burial after fifty (50) years. This is more than enough time for nature to have dealt with the remains. This practice allows the land to participate in the natural flow around it and ensures burial spaces for our future community without consuming additional land. Also, the reuse provides ongoing income for care and maintenance of the property. This practice contributes to The Meadow being a sustainable burial ground.
How is the body prepared for green burial?
Whether a burial or cremation is planned, preparation can be quite simple.  It can reflect a wide range of intimacy and participation.  For example, as a way of embracing the life and death of their loved one, family and friends may wish to bathe their loved one, wrap him/her in a shroud or dress them for a casket. Or it can be a matter of calling the funeral home and requesting a professional transport, and asking them to prepare and keep the body refrigerated until the cremation or burial. 

Unless the body is going to be buried within 24 hours, arrangements for keeping it cool will be necessary.  If at home, dry ice and/or winter weather can be used. There are a number of web sites dedicated to this topic, for example http://www.youtube.com/watch?v=pYW5S5xVjfI .
In addition, while cremation is not the greenest of practices, as long as the body has not been previously embalmed using toxic fluids, cremated remains can be buried in a green cemetery.
Are there restrictions regarding the fabric of a shroud?
A shroud can be made of linen, canvas, cotton or other natural fibers.  The fiber used should be tightly woven and strong enough to support the body as it is being moved.  A shroud can be simple or ornate, but all parts should be biodegradable.
What is the difference between a coffin and a casket?
The main difference is the shape.  A coffin typically resembles the shape of a body while a casket is a simple, rectangular six-sided box.
Can I make the casket to use for a burial?
If you have carpentry and woodworking skills along with the understanding of the amount of weight to be contained and how it should be supported, then making a casket for yourself or a loved one can be a very fulfilling project. If you're new to woodworking, this might not be the time to "give it a try."
Can I dig the grave for my loved one?
Yes, but you should know digging a grave is not as simple or easy as it might sound.  Follow this link to review some of the things you might want to consider. 
How deep must a grave be?
A grave must be deep enough to bury the shrouded body or the casket so that there are 18 to 24 inches of dirt covering it.  This results in the average grave being between 3 and 4 feet deep.
Can I help lower the body into the grave?
Yes, but again you should be aware.  Good body mechanics, strength, coordination, and working as a team with 5 or 7 other people are required.  A body and/or a casket can be quite weighty.  You should also consider how the emotional and physical demands placed upon you by the loss of your friend or family member will affect your ability to focus and carry out the task. 
Because carrying and/or lowering a casket can be complex and physically demanding, we expect many people will choose to have the body/casket pre-placed above the open grave in advance of any gathering, prepared for lowering after everyone has left.
On the other hand, if friends and family don't feel confident about carrying and lowering the body but would like to participate in shoveling the dirt into the grave as part of the farewell, the body can be pre-placed in the open grave before the gathering. 
Whether before and/or after the gathering, if The Meadow is to help with the body, we will be using wagons and machinery to do the work.  You will probably prefer the machinery be out of sight during the gathering.
Is there any way to level the ground after it has fully settled?
At first there will be a mound.  It will settle over time and should it begin to sag, we will return to replenish the soil as needed to keep the ground level or compatible with the soil around it.
Are cremains allowed to be scattered or buried at The Meadow?
Yes, both.  You can purchase one of the 24" x 24" interment sites that were surveyed and designated for just this use.  If you like, you can place a marker to commemorate the deceased. As an alternative, ashes may be scattered in open areas not occupied by graves or burial sites.  In this case the cremains should be pulverized and sorted to the point that no part can be identified as bodily remains. In the case of scattering, we request you make a donation.
What types of markers can be used on gravesites?
The Meadow allows markers made of indigenous wood or stone that lies flat and level with the ground. The Meadow is not responsible for maintenance on or around markers.
With minimal or no markers, how do you prevent an accidental incursion into an existing grave?
When we designate an area for use, professional surveyors place "monuments" (stainless steel pins) in the ground to form and serve as a ground-level grid.   Using those points of reference we then install more pins to subdivide the grid into sections containing up to 12 4'X10' sites or 100 cremains site.
As an added precaution when we are preparing to dig a grave, a staff member goes out and using our map and markers he/she flags the designated site.  Later a second person goes out alone to confirm the first person's work, and finally, our backhoe driver checks one more time before digging.

With minimal or no markers, how will I know where my loved one is buried? 
We keep excellent records and know the exact location of each and every site.  If no marker was used on the grave site you seek, or if the marker cannot be located, you'll need to call us with the deceased's name and any other identifying information required.  We'll make a mutually convenient appointment to meet and guide you to the site.  Because we don't keep regular office hours, all the advanced notice you can give will be appreciated.
Do wild animals ever dig up dead bodies?
In spite of wildly exaggerated rumors, there have been no verified cases of such.
Can a family bring their own deceased to the cemetery if they choose?
Yes.  But before you do, be sure that you have the death certificate, that the body is properly prepared for burial, that you have completed all the administrate requirements and made all the financial arrangements, and that you have communicated and coordinated your plans with our staff.  No interment will take place until everything is complete.
Does The Meadow work with a funeral home?
While adhering to our rules and regulations, we make every effort to cooperate with funeral homes as they assist families maneuvering through their end of life needs and desires.  We have no ongoing arrangements, contracts, or financial agreements with any funeral home.  We are an independently owned and operated business.
What do I do when somebody dies if I am acting as the funeral director?
If the death is unexpected:
Basically the process is the same as if the death was expected, except that you must notify a medical examiner. Call 911 or your local law enforcement agency. If an autopsy is required, tell the coroner that you are acting as the funeral director, and to call you when the body is released.

Hospice, hospital, nursing home or at home expected to die:
Make sure everybody understands that the decedent wants a green burial, and has designated someone to handle the burial (act as a funeral director). Make sure everyone involved understands this. Once they understand that, they'll help you do what is required.

Call decedent's doctor's office. If the cause of death is from natural causes, get the name of the person contacted at the physician's office who provided assurance that the physician would complete and sign the medical certification of death on the certificate and the date he/she was contacted. When speaking with the physician or staff in his/her office there are three questions that should be asked. 1.) Will the physician sign the death certificate? 2.) Will the physician be available to sign the medical certification within 48 hours after presented by the acting funeral director? 3.) Is there any reason this death should be reported to the medical examiner for investigation?

The Bureau of Vital Statistics in the county of death will issue a death certificate and a burial-transit permit. The bureau's registrar will help you fill out the death certificate.

Are there any religious considerations associated burial at The Meadow?
No. We welcome anyone of any religion. Our only consideration is that a burial meet our standards, rules, and regulations for a green burial and provide for the care and protection of The Meadow.
Isn't a traditional Jewish burial "green" anyway?
Yes it is.  There are other religions that adhere to similar practices as well.
Can family members leave flowers and/or plant flowers or a tree at The Meadow?
There are accommodations for such.  Basically, no plastic flowers are allowed.  Cut flowers may be left at a grave site, but they will be removed by our staff when we deem it appropriate.  Plantings are possible, but must be cleared with our Property Steward beforehand.   The Meadow does not accept responsibility for watering, maintaining, or protecting plants.  We also reserve the right to remove plants for any reason.   See Rules and Regulations.
Is there any reason other than those already mentioned that The Meadow might refuse to bury someone?
There are certain diseases and conditions that for public health reasons require remains of the victim not to be buried or to be sealed and buried in a plastic container.  Hospice, hospitals, and funeral homes are well aware of the list.  Obviously, these circumstances would make the use of The Meadow inappropriate.
May we visit The Meadow at other times?  Will there be walking areas or places to sit?
Yes.  We hope you and others will think of The Meadow as a public green space. You are welcome to walk throughout The Meadow.  There are pathways and benches for your use.  In addition, Boxerwood Nature Center and Woodland Garden is adjacent to The Meadow and they welcome you as well.
What are the hours of The Meadow?
Visiting hours for The Meadow are from dawn until dusk year round.  Burials are usually scheduled between 10:00 and 4:00.  In order to prevent disturbing burial parties, signs will be posted giving notice of scheduled interments.  Please be thoughtful—allowing them all the silence and distance they might need.
How is the future of the cemetery guaranteed?
In Virginia, once land has been used as a cemetery, the only way to alter that use is by eminent domain, i.e. the Commonwealth can decide the land will be put to another use for the common good.  Were this to happen, the government would bear the burden and expense of relocating all the graves and markers, etc.
In addition, the Commonwealth of Virginia requires every commercial cemetery to establish a Perpetual Care Trust for the specific purpose of maintaining the cemetery.  Ten percent (10%) of each internment privilege purchase is contributed to that endowment.
Can I be buried on my own private property?
We checked with our local officials and it is our understanding that in Rockbridge County a landowner is allowed to be buried on his/her own land, and is allowed to bury family on that land.  There are Health Department and Zoning requirements to be met.  The presence of the grave(s) must be recorded in the deed and protected in perpetuity.  Should the land ever be sold, the presence of the grave must be revealed to potential buyers by the owner and/or real estate agent.   If you are interested, contact the County Department of Zoning and Planning.