The Meadow is owned, operated and administered in alignment with the many indigenous peoples and religious beliefs that recognize humans do not and cannot own land. We are of the land, for the land and meant to serve it and all the community that depends upon it.
Our Stewards: Hunter Mohring and Karen Bailey's home is just a few hundred yards from The Meadow. They live in Boxerwood Nature Center and Woodland Garden which has occupied their hearts and lives since 1985. Their interest in The Meadow erupted in 2012 and shows no signs of quieting.
Administrative
Hunter Mohring was born in rural Alabama and has always returned to natural settings for comfort, solace, and wisdom.  She has a BS in Physical Education, an MA and ABD (All But Dissertation) in Educational Psychology, all from the University of Alabama. 
Hunter's work experience reveals a broad set of interests and skills:  Psychologist in the Mental Health Field, Peace Corp Volunteer, Youth Advisor for the Episcopal Diocese of Alabama, Professional Group Dynamics and Organizational Development Consultant/Trainer, Director of a Child Care Center, and co-founder of Boxerwood Nature Center and Woodland Gardens in Lexington, Virginia http://boxerwood.org/aboutus/history.asp. Hunter also served a 5-year stint as manager of Lexington's Healthy Foods Coop and then retired to her life as full-time steward of The Meadow.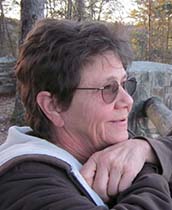 Grounds and Wildlife
Although she took her first breath in the state of Georgia,
Karen (KB) Bailey is from Alabama.  Early in life KB knew she was born for nature.  When the adults in her world would ask, "And what are you going to be when you grow up?" she replied, "I don't know, but it will be outside."  Even though she succeeded in school, spent a few years in church work, and was a professional singer/song writer for years, silent discontent was always present.  But in 1985, when she was hired by Dr. Robert S Munger to work in his garden — a 31-acre naturalistically planted collection of rare trees and shrubs called Boxerwood — the world shifted in her favor.
Until Boxerwood, KB had always been waiting for something as yet unknown to give her life place and meaning.  First, Dr. Munger sent her to school to study just enough botany to satisfy him that at least one of them was academically up to date.  After that, with Dr. Munger as mentor and guide and the 2,700 varieties of trees and shrubs to learn from, she flourished.  What might have been difficult like learning the Latin names, locations, and habits of all the plants came with ease.  Every day was a joyful dance.  She thrived.  Hunter says, "It was like watching a Husky find snow.  She was home." 
It was the mutual love, trust, and respect between Dr. Munger and KB that made the Boxerwood Nature Center and Woodland Garden possible.
Thirty years later KB is a certified arborist and one of the more sought after horticultural consultants in our community.  She experiences natural settings as a community and cannot help but see her job as Steward/servant/protector.  Being a co-founder of The Meadow seems only natural and right.
Virginia Cemetery Compliance Agent
Every for profit cemetery Company in Virginia is supervised by a compliance agent or a designee. The Compliance agent is to provide adequate supervision of the services provided by the employees of the cemetery to assure that all cemetery employees and the public have answers to questions within a reasonable time pertaining to the operation of the cemetery.  The agent: provides training to the employees in all areas of Virginia law and assures compliance with these laws, provides cemetery maintenance and administrative training to employees, assures required deposits to the endowment trust are made and regularly reviews all procedures to protect the Cemetery, its interment right owners and the public at large.
Jeff Hodes has enjoyed over thirty five years of serving families in the cemetery and funeral industry. He has worked in all types and sizes of cemeteries including old historic cemeteries, large operations serving more than 1900 families a year, and small operations providing the same type of professional services to less than 100 families a year.  Five years ago he began Cemetery Management Solutions. His Company has been consulting cemeteries and funeral homes utilizing his diverse skills learned over these years.
Jeff has his BS in Biology from Westminster College in Pennsylvania and his MS in Biology from Youngstown State University.